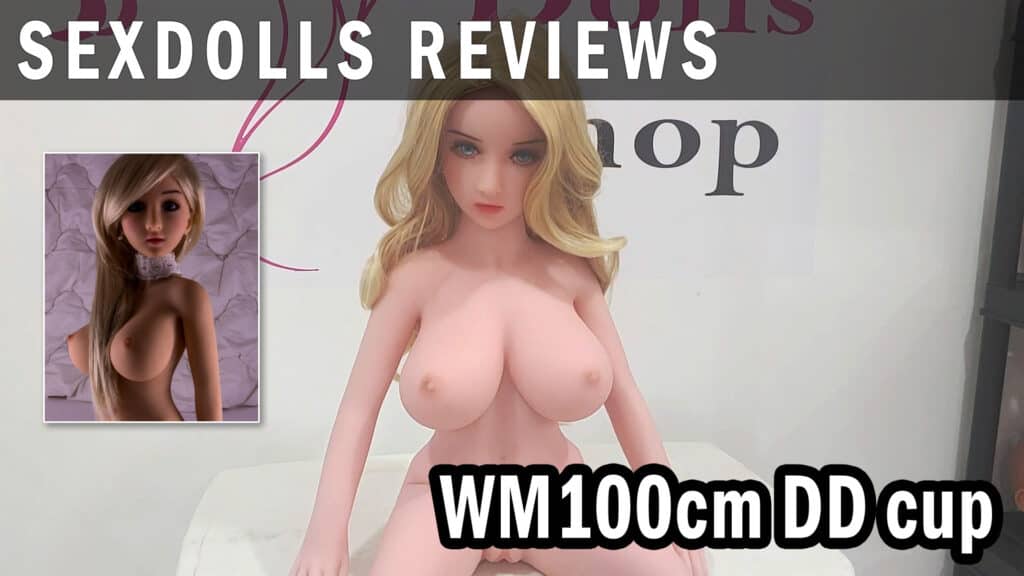 Here is an unseen wmdoll 100cm review. We had her in stock and unboxed her for you. All you need to know about the wm 100cm DD cup is here.
WMdoll is surely one of the most prestigious factories in China. They are well-known and established and their dolls are well built and durable.
| | |
| --- | --- |
| BRAND: Original WMDOLL | MATERIAL: TPE |
| HEIGHT: 3'4 (100cm) | BRA SIZE: DD |
| WEIGHT: 30 lbs (14kg) | VAGINA DEPT: 7″ (18cm) |
| BUST: 24″ (63cm) | ANAL DEPT: 6.7″ (17cm) |
| FOOT: 6″ (15.5cm) | ORAL DEPT: 5.5″ (14cm) |
| WAIST: 15″ (38cm) | HIP: 23″ (60cm) |
wmdoll 100cm review
Light dolls are always a plus when it is time to maneuver them. It is the one big advantage of buying a small doll. I am personally not fond of the young-looking head that comes with the doll, luckily, the body has big knockers that will hypnotize you from the first moment on.
She is in fact a miniature of a 20-year-old sex bomb. She has hips, not too wide, not too small, beautiful round boobs, and a nice butt.
Here is our 10 points wmdoll 100cm review:


1. Promotion pictures likeness: 10/10
The doll in real look exactly like the one in the promotion pictures.

2. Skin: 8/10
The skin is soft and pleasant to touch. TPE skin is always a little oily, be aware!


3. Boobs: 8/10
The boobs feel great. We chose this one with the hollow option and they felt fantastic! Because this doll is so tiny, the boobs look a little smaller in real than on the promotion material.


4. Labia realism: 6/10
I wasn't impressed much with the labia on this doll. It is an older model which may explain the lack of realism. Refer to the video below.


5. Butt realism: 7/10
It is a nice and well-sculpted butt.


6. Hands: 7/10
The hands are fine. They upgraded the fingers and are now having very rigid wires in them. The articulated fingers option is unfortunately not available for that model.


7. Holes placement: 5/10
This is an older model and the holes are not correctly placed. It is mainly the butt hole that is lower than it should be and the vagina is a bit higher.

8. Weight: 10/10
This doll is light and easy to manoeuver. This is really an ideal weight for a sex doll.

9. Articulation: 10/10
The articulations for that model were perfectly adjusted.

10. General impression: 8/10
I really liked this doll for its cuteness and weight. It has everything you are looking for. If you feel comfortable with a small doll, go for it. Small dolls, although they are very convenient weight-wise, are not for everyone. Even if she is a small representation of an adult doll, you may feel uncomfortable because of her size.


Watch the wmdoll 100cm review video now!
BACK TO THE LATEST SEX DOLLS REVIEWS PAGE
Pros & Cons
Looks Like The Marketing Pictures
Light and easy to maneuver
Unrealistic Holes Placement - Good For Missionary's Position Sex, Makes It More Complicated For The Doggy Style
No articulated fingers - this model is too small for that option