Mind-blowing wmdoll 140cm A cup review!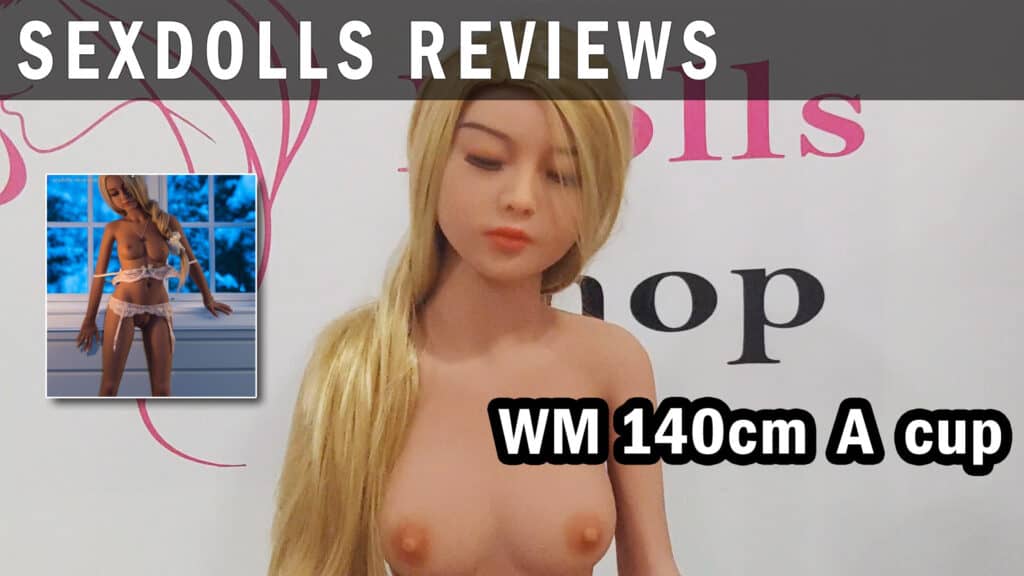 WMdoll is surely one of the most prestigious factories in China. They are well-known and established and their dolls are well built and durable.
| | |
| --- | --- |
| BRAND: Original WMDOLL | MATERIAL: TPE |
| HEIGHT: 4'7 (140cm) | BRA SIZE: A |
| WEIGHT: 50.7 pounds (22.9kg) | VAGINA DEPT: 7″ (17cm) |
| BUST: 28.5″ (72.4cm) | ANAL DEPT: 6.7″ (17cm) |
| FOOT: 8.2″ (21.5cm) | ORAL DEPT: 5.5″ (14cm) |
| WAIST: 20″ (50cm) | HIP: 29″ (73.9cm) |
wmdoll 140cm A cup review
This model, just like all WM models, has a beautiful figure. It reminds me a lot of the 140cm D cup but with smaller breasts. The butt and the labia are identical. Even the head used with the promotion picture is identical with one exception: this one has closed eyes.
The WM 140cm A cup is an older model and as such, the hole placement is incorrect. Some people attribute importance to this detail, others do not. You just need to be informed of it.
I did not comment on the articulations' tightness in the video. They are almost always the same. WM is very consistent with the way they adjust the articulations. Bigger dolls have tighter knees to help them sustain the weight of the doll otherwise, they are nearly all adjusted the same way.
Here is our 10 points wmdoll 160cm A cup review:


1. Promotion pictures likeness: 9/10
The boobs, somehow, look a tiny bit different. Otherwise, the doll is the same.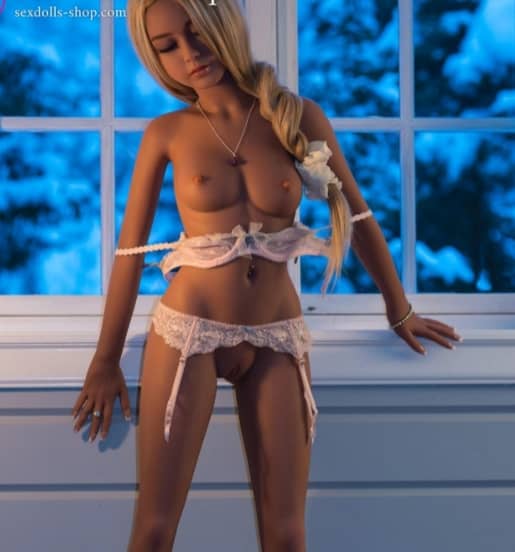 2. Skin: 8/10
The skin is soft and pleasant to touch. She was built with ultra-soft skin which makes her feel very soft but is also much more fragile. Please refer to our ultra-soft VS soft skin video for more information. TPE skin is always a little oily, be aware!


3. Boobs: 7/10
The boobs have a very natural shape. The boobs on the promotion pictures look slightly different than the boobs on the doll I reviewed. It may lie in the fact that the one on the marketing pictures has 3cm areolas while this one here has 5 cm ones. Still the form looks a little different to me. These breasts are too small for the hollow pocket of air so they can only be "solid", meaning they are filled with the same type of TPE as the body.


4. Labia realism: 7/10
The labia on this doll are fine. It is not the best that I have seen, but I have definitely seen much worst!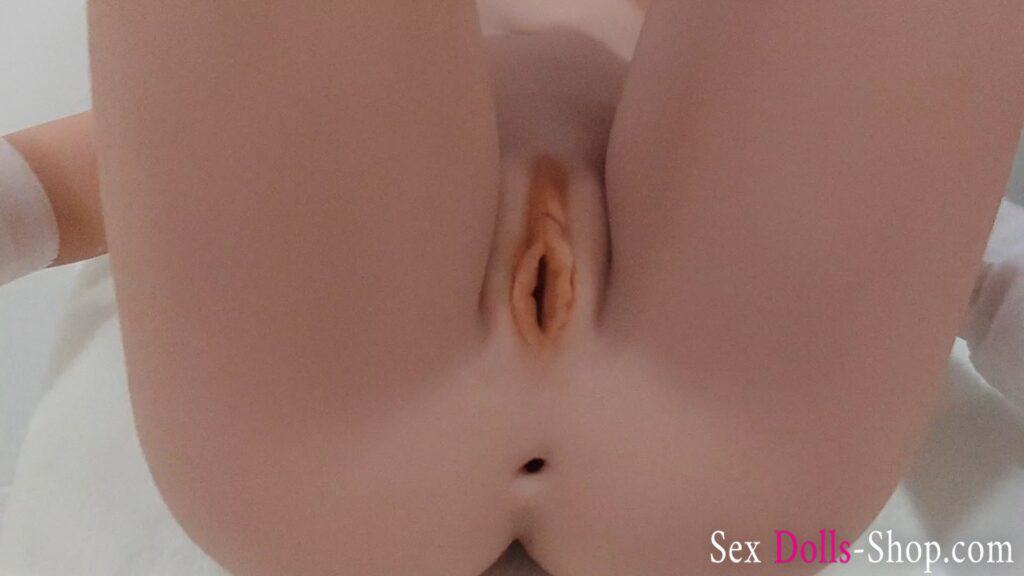 wmdoll 140cm A cup review


5. Butt realism: 7/10
It is a fine butt. You can see that it is one of the older models however, it is still very acceptable.



6. Hands: 9/10
The hands are well done. The articulated fingers are a fantastic enhancement compared to wire fingers.


7. Holes placement: 6/10
Again, this is an older model and the hole placement is incorrect. It has an advantage when it comes to di her in the doggy style and a drawback when you wish to you her from behind.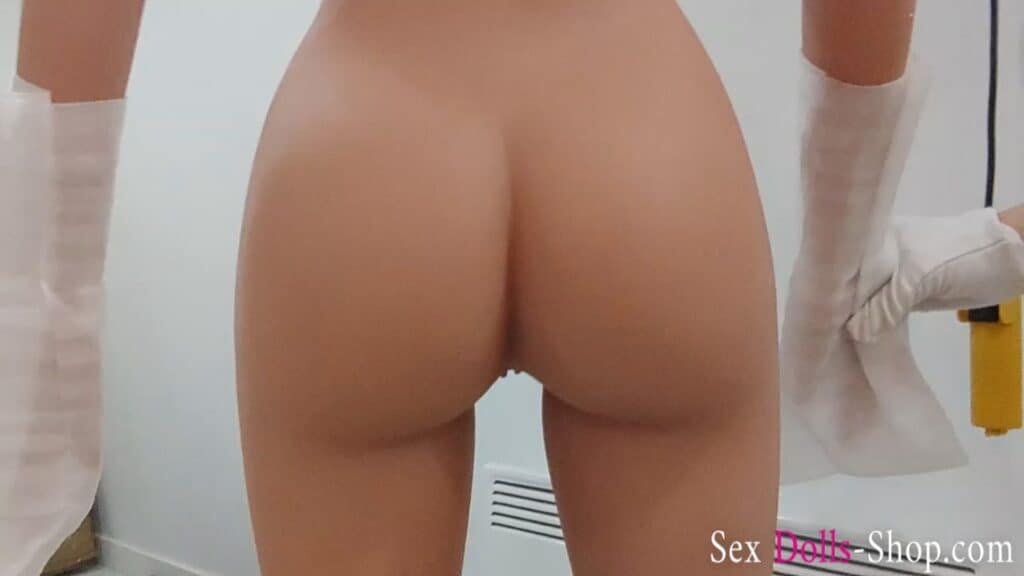 8. Weight: 9/10
She is barely 60lbs which is really great weight for a doll!
wmdoll 140cm A cup review

9. Articulation: 9/10
The articulations for that model were perfectly adjusted. They were squeaking a little. It happens frequently, that's just how sex dolls are made.

10. General impression: 9/10
I really did like this doll. I personally like all dolls that are light. Of course, this one's boobs are too small for me but if you are looking for a small doll with a B cup size, she is the one for you. I know she is advertised as an A cup but in real life, she'd be a B cup.
wmdoll 140cm A cup review
Please note that the doll in this review has 5cm areolas while the doll in the promotion pictures has 3cm areola.
Watch our WMdoll 140cm A cup review video now!
BACK TO OUR LATEST SEX DOLLS REVIEWS PAGE
Pros & Cons
Great WM work craft, as usual
Light and easy to maneuver
Looks Like The Marketing Pictures
Unrealistic Holes Placement - Good For Missionary's Position Sex, Makes It More Complicated For The Doggy Style