Informative Starpery 174cm C cup review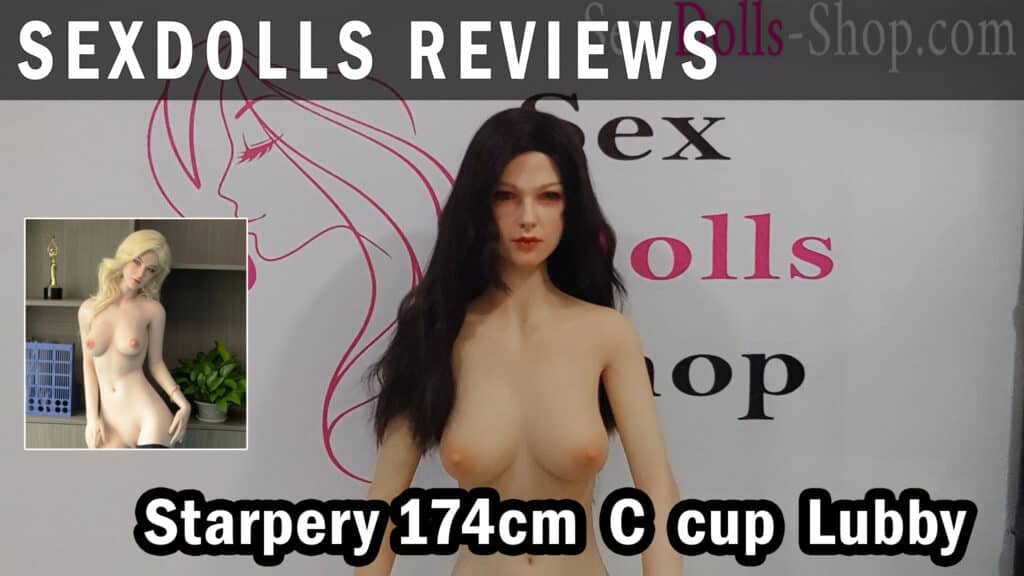 Starpery is a quite new factory (about 2 years as I write these lines) which is specialized in highly realistic looking sex dolls. All of their heads are made in silicone and you have the choice of having the body built in silicone or in TPE. Silicone is about $800 more expensive.
I was really looking forward to this get this doll. It was the very first Starpery doll I had contact with a reviewing a new brand is always very exciting!

This one is fully equipped: Implanted hair, gel breasts, realistic body painting, weight reduction. The only thing missing is the articulated fingers. They didn't have this option when I bought the doll.
| | |
| --- | --- |
| BRAND: Original Starpery Doll | MATERIAL: TPE body and hard silicone head with implanted hair. |
| HEIGHT: 5'9 (174cm) | BRA SIZE: C |
| WEIGHT: 57.3lbs (26kg) (Weight reduced) | VAGINA DEPT: 7.4″ (19cm) |
| BUST: 30.3″ (77cm) | ANAL DEPT: 6.7″ (17cm) |
| FOOT: 8.6″ (22.5cm) | ORAL DEPT: X |
| WAIST: 20.8″ (53cm) | HIP: 32.6″ (83cm) |
Here is our 10 points Starpery 174cm C cup review:


1. Promotion pictures likeness: 8/10
The doll is exactly the same as the one on the pictures. Their marketing material is obviously not photoshopped and you can expect to receive the same doll as the one you see on the images. The main difference you can see here is the wig color. The customer who originally bought her wanted to have dark brown implanted hair.

There is that one thing that annoyed me a lot was the skin's wet appearance. I was not happy about it. I wrote to the factory and they answered me that this is normal with a silicone doll. In this case, why don't they show it in your marketing pictures?

My second Starpery didn't have that wet appearance. I think that Starpery definitely have to work on that. You, as customer, need to know that your doll's face may look wet.

Their promotion picture: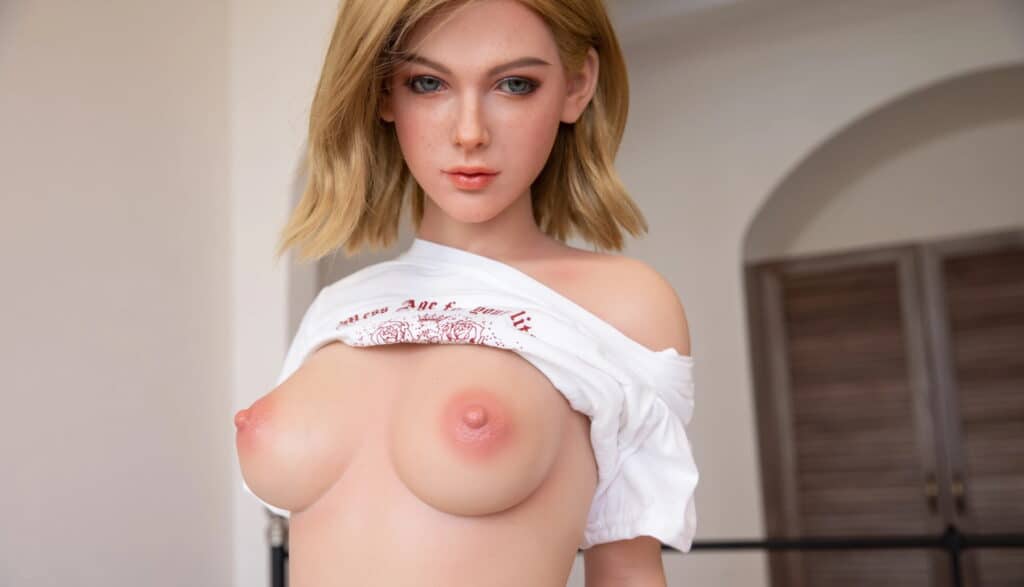 The wet face I received: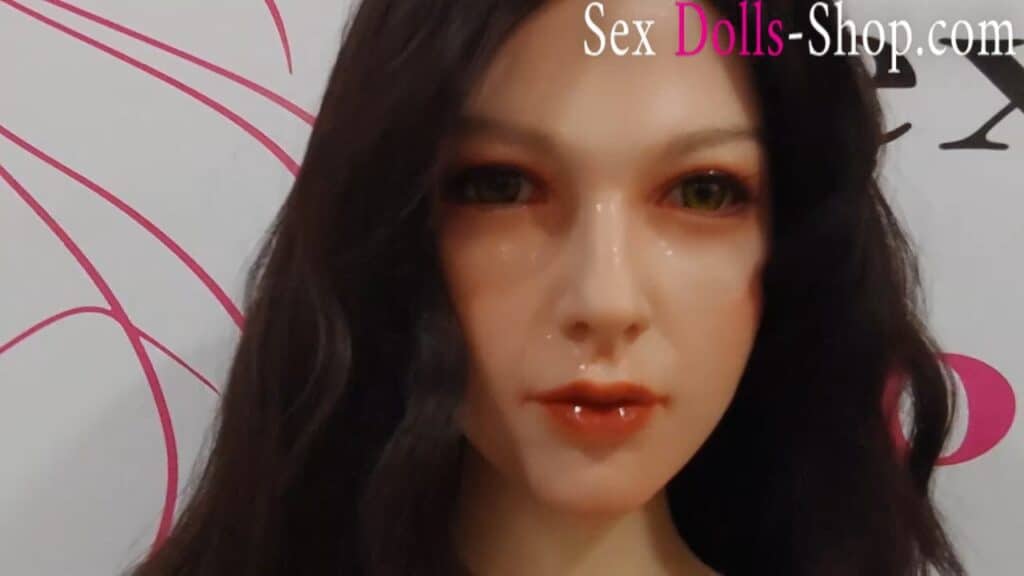 2. Skin: 8/10
The skin is harder than what I am used to with WM. After discussing with my employee, I realized that it may not be a bad thing. Human do not have soft skin everywhere. In fact, it is about the opposite. Our arms, rib cage, legs, thighs are mostly quite hard. Only women's breasts are soft.

The skin on this doll resemble in fact more real human. If you get a doll with bigger boobs, they will still be soft and feel nice. If you buy a doll with smaller boobs, they may feel a little too firm.
Starpery 174cm C cup review
The weight reduction option makes the skin feels much firmer, we are on the edge of a skin feeling hard. The thighs and the butt are especially affected by this. If you are a butt lover, DO NOT take the weight reduction option, you will not be pleased.
NOTE:
A silicone body with a weight reduction option AND the soft butt option may solve this issue. I need to test one to confirm this. TPE bodies do not have a soft butt option, unfortunately.


3. Boobs: 8/10
They were fine. Not too firm and not too soft. The nipples are really well done and the fact that they use real paint to do the color makes them look pretty natural.


4. Labia realism: 7/10
The labia on this doll is fine. I have seen better and I have seen worst. I like the fact that they use paint for the color and not simply lipstick like many other brands do. I think that if we compare with the realism of the rest of the doll, their labia realism could be improved. That being said, it is not a $5000 doll and for the price they sell the doll for, the overall realism is pretty amazing.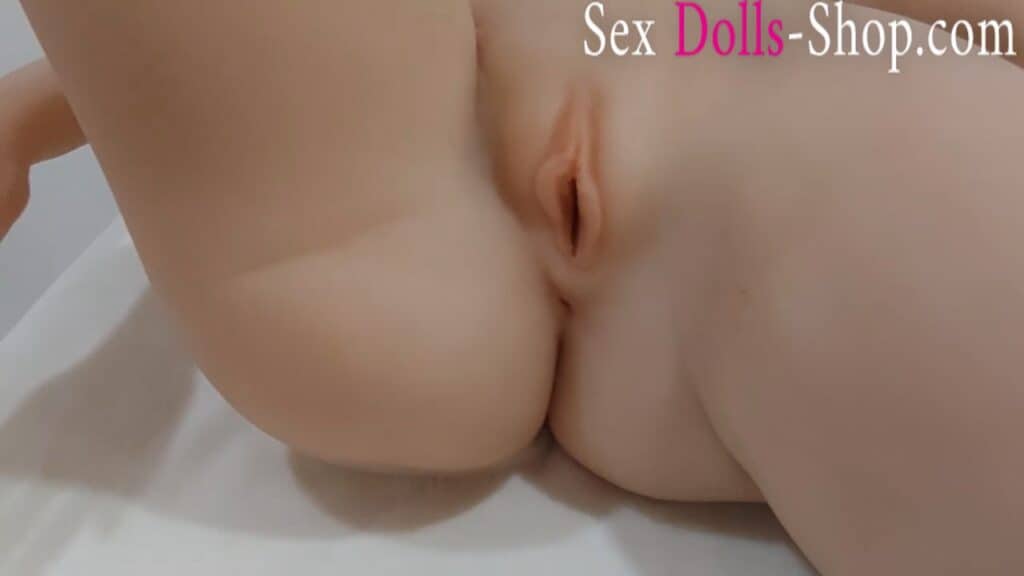 Starpery 174cm C cup review


5. Butt realism: 5/10
The butt is a big deception for me here. The appearance is fine however, it is much to hard and does not feel natural at all. This doll is made in TPE and was built with the weight reduction option which means they use a foam core to save weight. That foam core makes the body really hard.
On top of that, they didn't make a ribbed butt hole even if I asked them to.



6. Hands: 6/10
Their default hands are definitely to be improved. They are not up to the standard that this brand wish to reach and represent. Luckily, they now offer the articulated fingers as well as an option.


7. Holes placement: 9/10
The hole placement seems to be correct. The vagina is reachable from behind and the butt hole is about where it should be.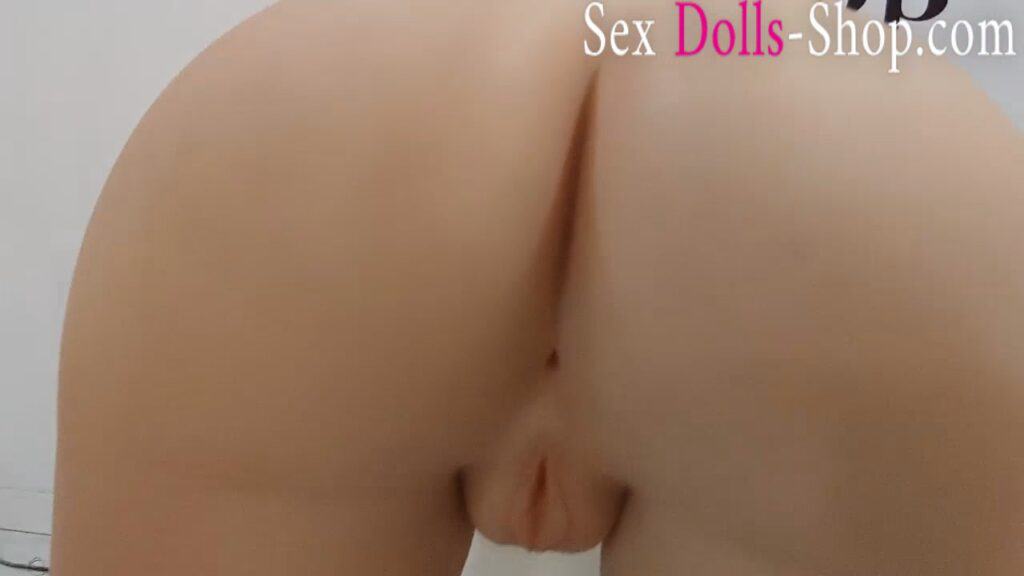 8. Weight: 10/10
She weighs about 66lbs without her head which is a miracle for a doll that tall. Their weight reduction option really does the job.
Starpery 174cm C cup review

9. Articulation: 10/10
The articulations for that model are perfect. They are easy to move, they are tight enough where they should be and they do not squeak at all.
10. General impression: 7/10
Aesthetically speaking, she looks fantastic. Starpery produces ones of the most realistic looking dolls on the market, there is no doubt about that.

Overall, it is a fantastic doll and the quality is great however, I was not pleased with the wet face and the skin firmness and these are definitely issues that need to be addressed by Starpery in the future.
Another thing, the implanted hair is a great option. You however need to know that some hair fall each time you comb her. Eventually, she won't have any hair anymore and she'll have to wear a wig.
I invite you to watch the video below for more information.
Watch our Starpery 174cm C cup review video below
OUR LATEST SEX DOLL REVIEWS ARE HERE!
Pros & Cons
Very realistic looking
Very light for that height
Implanted hair looks realistic
Great skeleton
Super eye system
Wet face
Very hard butt
Poorly made default hands